Watseka, IL Jewelry
Caporale's Custom Jewelry & Design
Caporale's Custom Jewelry & Design of Watseka, IL provides jewelry sales, repair, and services in Watseka, IL. With 20 years of experience, we continue to provide professional and top quality services for all your jewelry needs. Our family owned and operated business as headed by Anthony and Renee Carporale, serves Kankakee and Iriquois area.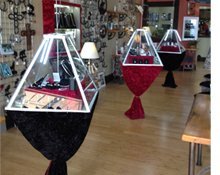 Our Services and Products Include:
Jewelry / watch / eyeglass repair ( done on site )
Direct diamond importer
Exotic gemstones
Pearl and bead restringing
Professional appraisals ( master goldsmith and award winning jewelry designers )
Unique handcrafted jewelry pieces made from all types of metals
We buy gold, diamonds, silver, and all precious metals
We offer honest and fair prices for golds and diamonds.
Call Caporale's Custom Jewelry & Design at 815-432-2300 for inquiries.
Caporale's Custom Jewelry & Design
Hours of Business:
Tuesday to Friday:
10:00 am – 5:30 pm
Saturday:
9:00 am – 1:00 pm
Sunday and Monday:
Closed

Methods of Payment: